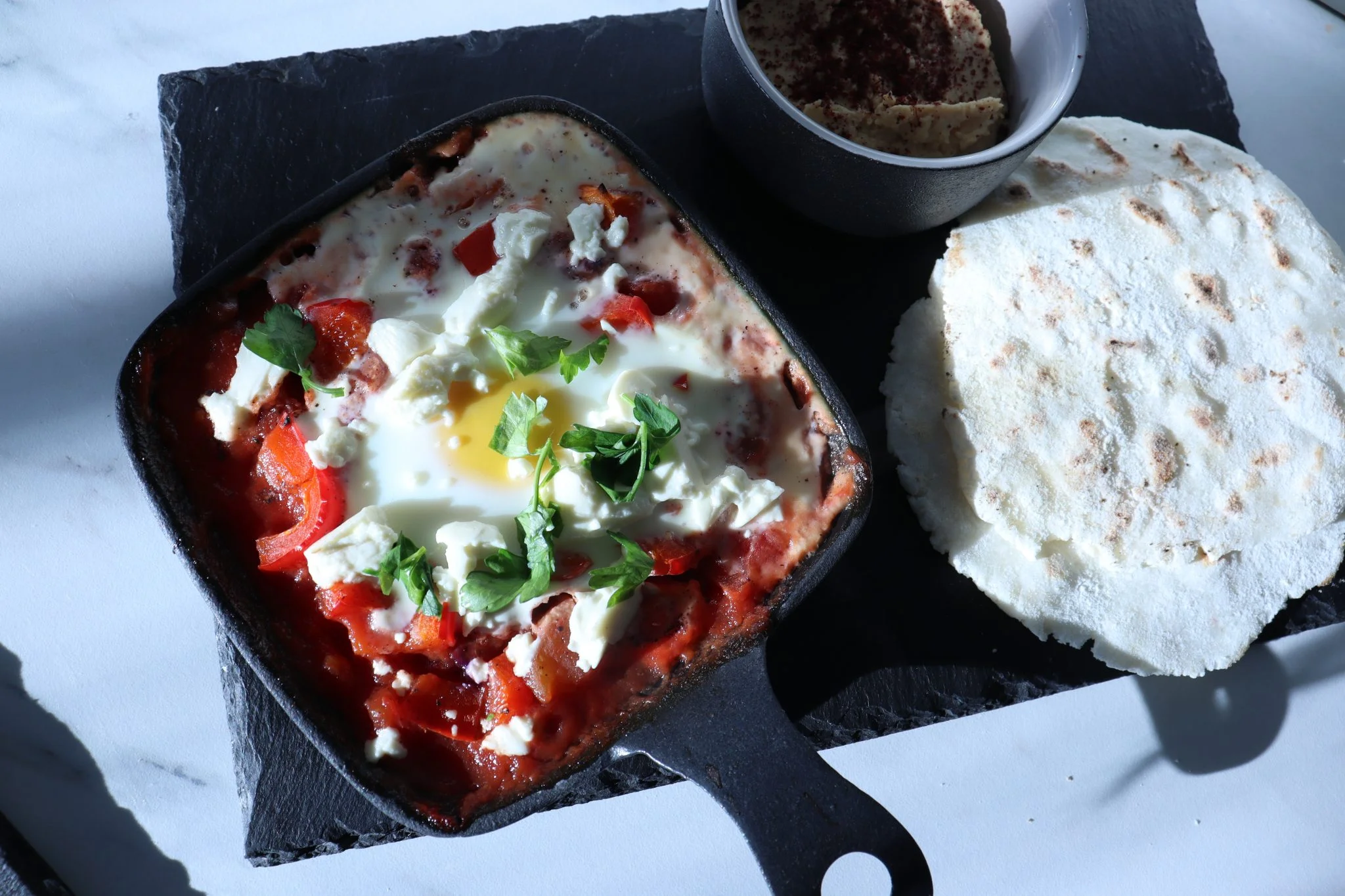 In my opinion, now is the golden age of shakshuka. You can find it in many restaurants' menus and many people cook it in their kitchen. 
Shakshuka – simple one pan egg dish, poached eggs are simmered in tomato, paprika, onion and garlic sauce. Spices that are used in dish vary from the region it's cooked.
This food is popular in the Middle East and North Africa (Egypt, Morocco, Tunisia). You can find different versions of shakshuka depending on the country, also, there are some modern versions of this classic food, for example green shakshuka.
This time I wanted to test my new cute tiny pans so I made 2 portions separately, but in the recipe below are instructions how to prepare shakshuka in one pan.
Ingredients for 2 portions:
4 eggs
2 tbsp extra virgin olive oil
can chopped tomatoes
1 bell pepper (I used red pepper), finely chopped
1 medium onion, finely chopped
3 garlic cloves, chopped
1 tsp sugar
1 tsp cumin
1 tsp sumac (optional)
1 tsp paprika
½ tsp cayenne pepper
½ tsp smoked chilli paprika (optional)
salt, to taste
little bit of feta cheese
little bit of parsley, for serving
Heat olive oil in the pan over medium heat. Add onion, pepper and saute for 3-4 minutes, until it becomes soft.
Add garlic cloves, mix it well and saute for another minute. Pour in chopped tomatoes, spices and sugar, combine everything and simmer for 3-4 min.
With a wooden spoon make small wells for eggs, crack eggs into it. Cover with a lid and cook for 5-8 minutes, depending on what eggs you like.
Just before turning off the stove sprinkle some feta and parsley on top. Serve with pita bread (I made GF pita) and hummus/eggplant spread.