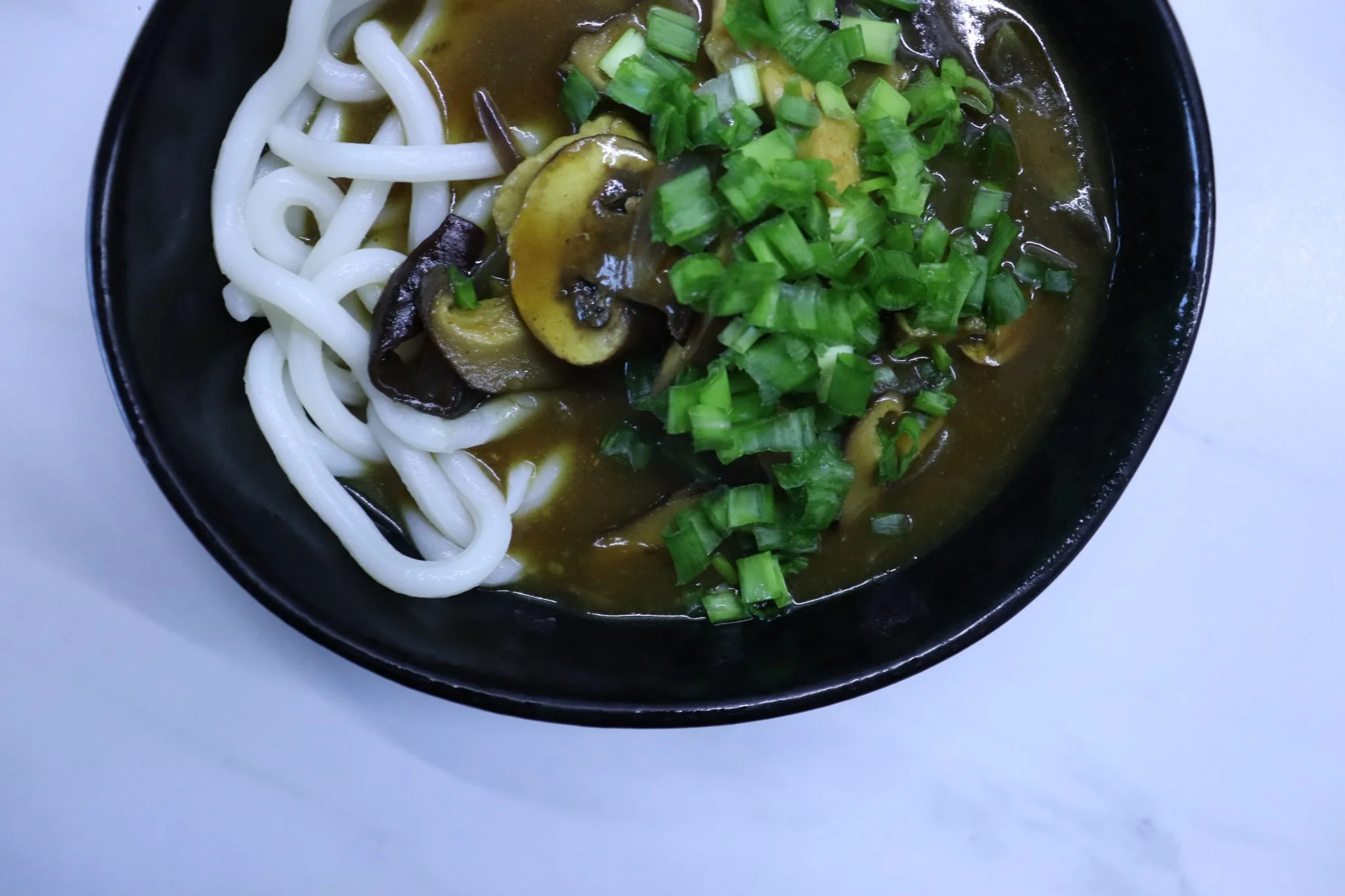 This week is Japanese food week, again :). It was hard to choose what to make, so I decided to prepare what I love to eat.
I love udon noodles and I really like Japanese curry (it's very mild and different from others). To combine these two together sounded wonderful to me and the result was not disappointing. Intense flavour of curry, mushrooms and soft noodles, what could you want more :). 
If you search on the internet, there are many curry udon recipes. I decided to do more "soupy" homemade curry roux, but if you don't feel like making your own or don't have time, there is always a store bought roux waiting for you :).
Mine version has chicken in it, but you can exclude it and enjoy the vegetarian version :). I made a little bit more roux for the future – you can freeze it and store in the freezer for up to 3-4 months.
Ingredients (3-4 portions):
1 tbsp sesame oil
1 onion
2 ½ tbsp japanese curry roux* (2 cubes if store bought)
20g dried shiitake mushrooms
10 g dried black fungus
50 g brown champignons
150 g chicken breast
400 g udon noodles
550-600 ml vegetable stock
200-300 ml hot water
2 tbsp mirin
2-3 tbsp soy sauce
green onions, finely chopped
1 tbsp cornstarch
Wash black fungus. In a bowl add dried mushrooms and pour over hot water. Cover it and let them rehydrate for 20 min. After 20 min cut mushrooms and set the used water aside.
Chop onions, brown mushrooms and chicken.
In the pot heat 1 tbsp sesame oil (over medium heat) and add onions. Saute for 2 min, then add chicken. Cook until meat is no longer pink. Add mirin, mushrooms, stock and water that mushrooms were soaked in. Mix everything well.
Add curry, cover the lid and bring it to simmer. Simmer for 10 min, then add soy sauce, cornstarch and mix it well. Cook it until the soup thickens.
Prepare udon noodles according to instructions on the packaging.
In the bowl add a portion of udon noodles, pour soup and sprinkle chopped green onions.
For curry roux*:
4 tbsp butter
4 tbsp flour
1 ½ tbsp curry powder
1 tbsp garam masala
In a small saucepan over low heat melt butter.
Add flour to completely melted butter and stir it.
Cook for 17-20 min on low heat stirring constantly (you don't want to burn roux). When roux turns light brown – it's ready.
Mix in spices and cook for 30-60 s. Remove from heat and your roux is ready to use!