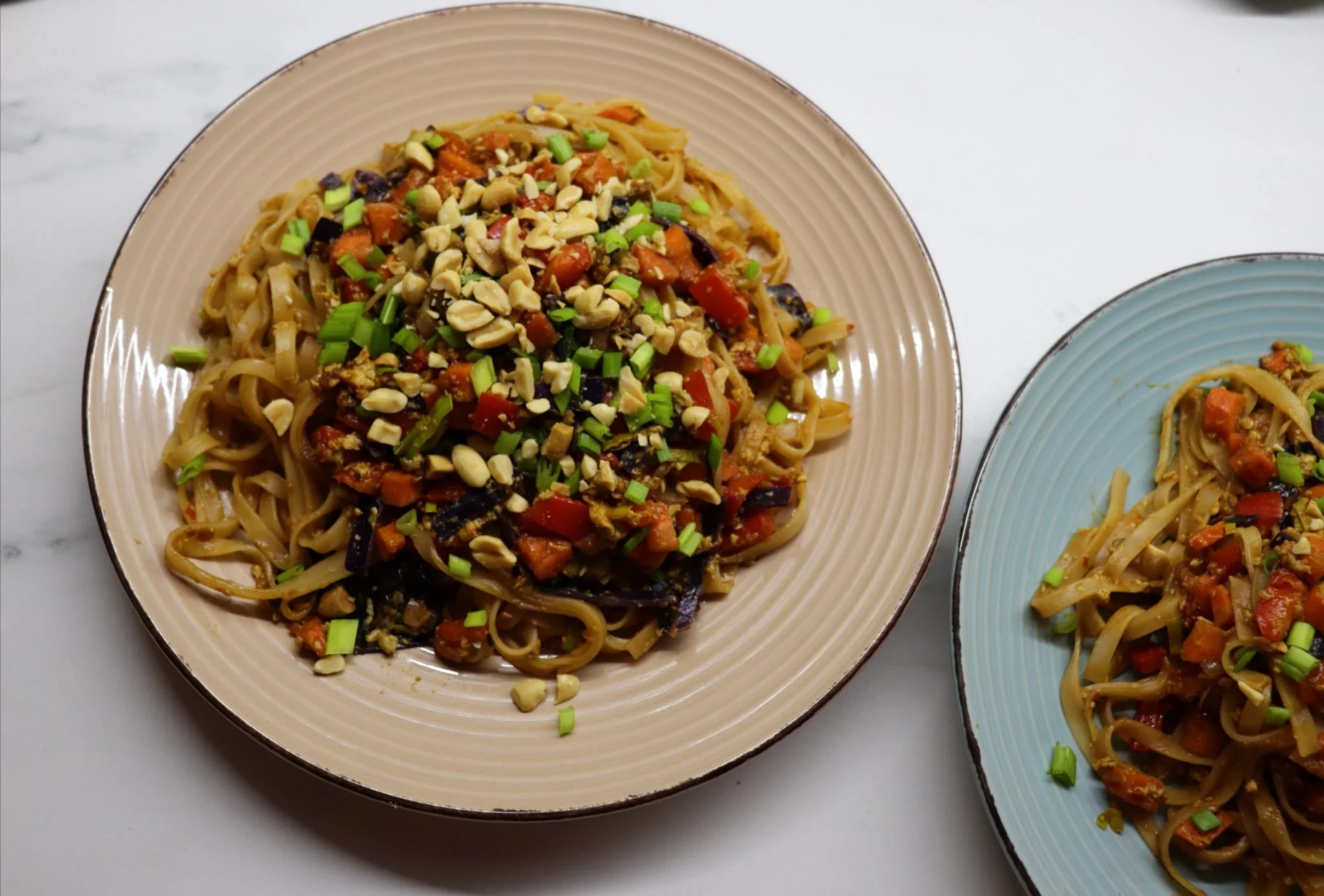 Mie goreng (Indonesian noodles)
Mie goreng, also known as mee goreng or bakmi goreng, Indonesian stir-fry noodle dish. While travelling through Indonesia you can easily find it in any street market, sold by food vendors. I can't travel right now so the only option to taste these noodles is to cook it myself. 
What I like the most about this dish is how flavorful and easy to make it is and the best part – you can play with different ingredients.
This time for mie goreng I used chicken and eggs, but for the vegan version exclude them, also oyster sauce can be substituted with hoisin. 
Ingredients (3-4 portions):
300 g  noodles of your choice (I used rice noodles)
200 g chicken, cubed
2 garlic cloves, finely chopped
1  cup red cabbage, shredded
1 medium carrot, cubed
1 red bell pepper, cubed
2 eggs, lightly whisked
4 green  onions, sliced
roasted peanuts
2 tbsp sesame oil
For the sauce:
3 tbsp Kecap manis
2 tsp dark soy sauce
1 tbsp soy sauce
2 tsp sambal oelek or sriracha
2 tsp oyster sauce
1 tsp roasted sesame oil
In a small bowl combine all the sauce ingredients and set aside.
Heat pan over medium heat and add 1 tbsp sesame oil. Pour in lightly whisked eggs and swirl to coat base. Cook for 1-2 min, then flip. After the omelette is cooked, roll up into a wrap and slice into ~1cm thick pieces.
Prepare noodles according to packaging instructions.
In the same pan heat the remaining oil over high heat. Add garlic and chicken and cook it until chicken is mostly cooked.
Add cabbage, carrot and bell pepper, toss for a few minutes until a bit wilted.
Add noodles, most of the green onions (you will need a little bit to serve) and sauce. Toss for 2-3 min, until sauce thickens and noodles caramelise a bit.
Add sliced omelette and serve immediately. Top it with roasted peanuts and spring onions.