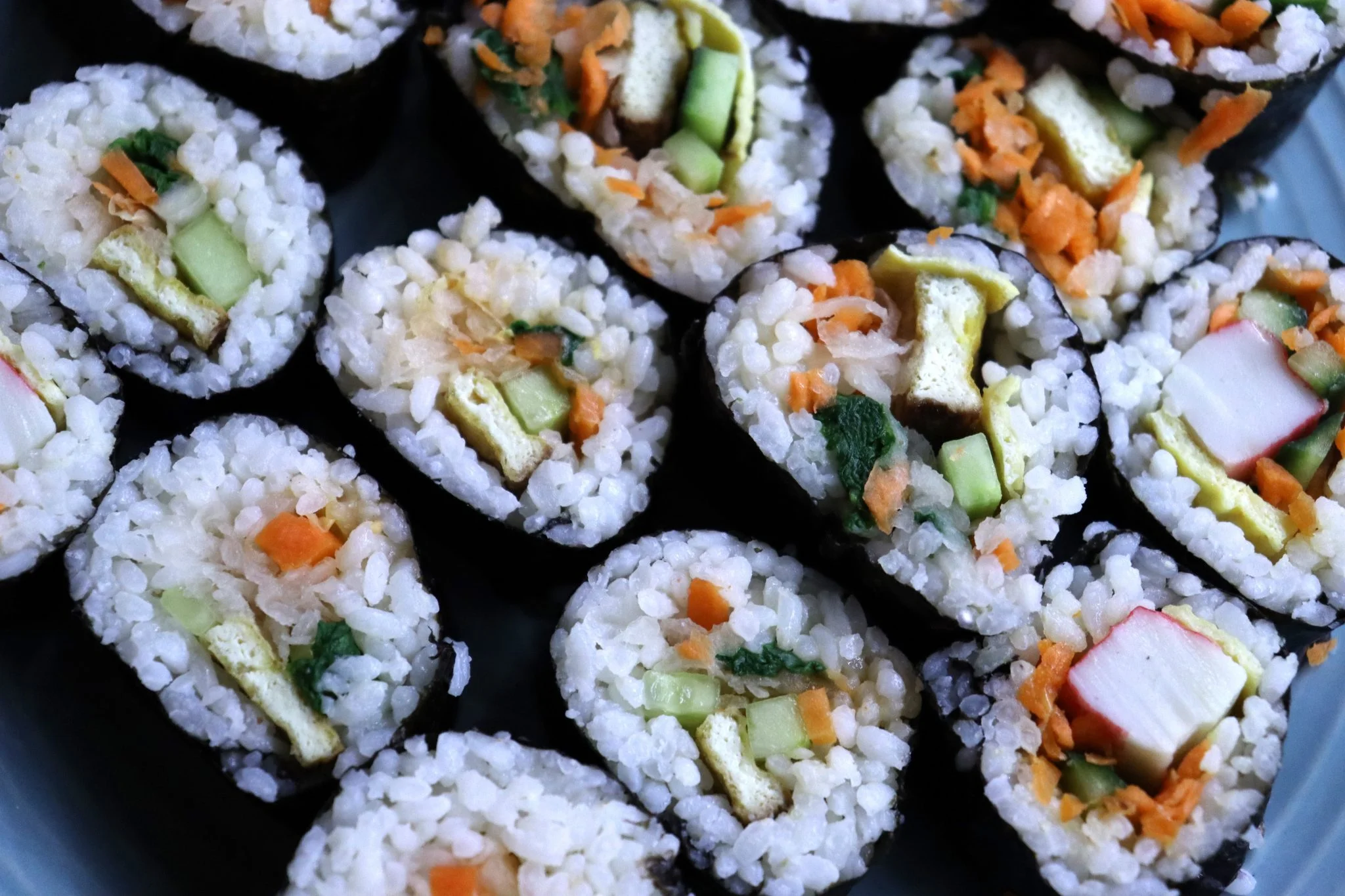 Kimbap (also known as Gimbap) – Korean rice and nori roll (you can say it's sushi relative :)). Kimbap is popular in Korea as a snack or a light meal with kimchi and damjumi (yellow pickled radish), you can find them in convenient stores or in lunch boxes (dosirak) and kimbap is perfect for picnic.
This roll is great, because you can fill it with any ingredients you want or have: kimchi, cooked meat, eggs, tuna, avocado, etc. It's great when you want to clean your fridge :). From the ingredients listed below you can make 6 rolls. 
Ingredients:
Rice:
3 cups cooked short-grain rice*
1 tsp roasted sesame oil
½ tsp salt
Kimbap:
150 g tofu
50 g spinach, blanched
½ english cucumber, julienned 
1 small carrot, grated
1 small white radish, grated
¼ cup kimchi
2 eggs, whisked
6 crab sticks
6 nori sheets
1tsp sesame oil
oil for tofu frying (I used 3 tbsp sesame oil)
bamboo rolling mat
To cooked rice add 1 tsp roasted sesame oil and salt, mix it carefully with a wood spoon or spatula.
Heat tbsp of sesame oil in a pan over medium heat. Pour in eggs and cook both sides well. Place omelette on a cutting board and cut it into long strips.
In the pan heat sesame oil over high heat. Cut tofu into strips, pat dry with a paper towel, sprinkle some salt and fry it in the pan on each side then set it aside.
Place one nori sheet on the bamboo mat (shiny side down). Put the rice on the sheet then spread it evenly and thinly to cover the seaweed. Leave about 3-4 cm gap at the top of the nori.
Fill the nori sheet with the filing ingredients then roll the seaweed. **
Paste some sesame oil over kimbap then sliced it into bite size pieces and serve.
*Use a little less water than you'd use for regular rice.
** I made 2 types of kimbap :
a) kimchi, crab sticks, spinach, cucumber, egg
b) fried tofu, spinach, cucumber, carrot, radish, egg