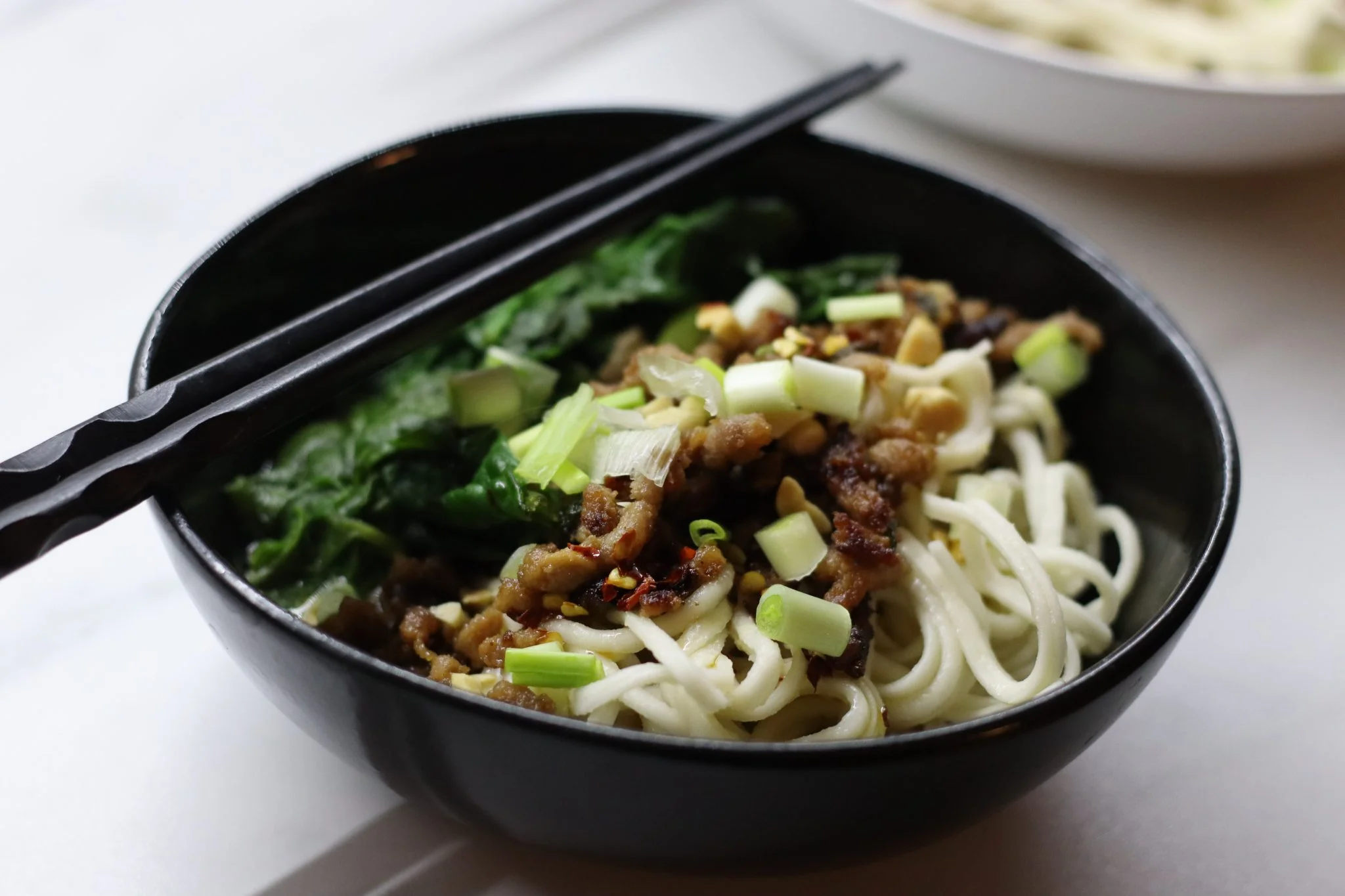 Dan dan noodles or dandanmian – a noodle dish originated in Sichuan. It is one of the most famous Sichuan street foods. This dish is served with freshly boiled noodles in little bit spicy and savoury sauce with crispy minced pork and crushed peanuts. Noodles can be served dry or as a soup ( in Sichuan it's usually served as a soup and in American Chinese cuisine -dry).
To prepare noodles preserved mustards are used, they give a unique flavor to this dish, however I was not able to find it in Lithuania. I improvised and instead of preserved mustards I used pickles :). Also, my version is more similar to American dandanmian.
Ingredients for 4 portions:
Sauce:
⅓ cup natural peanut butter
1tbsp roasted sesame oil
⅓ cup light soy sauce
3 tbsp rice vinegar
4 cloves garlic, finely chopped
3 green onions, finely chopped
2 tbsp brown sugar
1 tsp toasted and grounded Sichuan peppercorns or ½ tsp ground black pepper +½ ground coriander seeds
Pork topping:
1 tbsp sesame oil
400 g ground pork
1 tsp minced garlic
1 tbsp sake
1 tbsp soy sauce
4 cloves garlic, finely chopped
3 green onions, finely chopped
50 g Chinese preserved mustard green (I used washed and chopped pickles)
400 g thin wheat noodles or egg noodles
Homemade chili oil *
Blanched leafy green veggies ( I used spinach)
Roasted peanuts, crushed
Mix everything for the pork except sesame oil and chopped pickles. Let it marinade for 10-30min.
Heat a wok or pan over high heat and add 1 tbsp sesame oil. Add the pork and stir fry until cooked through and slightly brown and crispy on top.
Add pickles (or mustard greens) and stir fry for 1-2 min. Remove from the heat, but keep it warm.
In a mixing bowl combine all sauce ingredients.
Cook noodles according to package instructions.
In a bowl place ¼ sauce. Add noodles, blanched greens and on top add cooked pork. Pour over chili oil (~2tbsp), sprinkle crushed peanuts and green onions.
Mix everything together and enjoy :).
*This is home I make chili oil at home: in the pan heat 1 cup of any neutral flavor oil (it must boil), to a bowl add 4tbsp chili flakes, 2 bay leaves, 1 star anise. Pour boiling oil into the bowl, mix it well and let it sit until room temperature. I store it in an oil glass bottle.